Instructions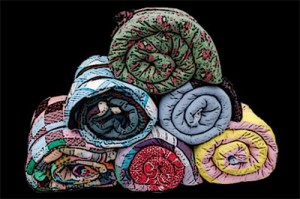 Why the name "Ugly Quilt?"
a. The Sleeping Bag is a utility quilt made from clean used or no-cost fabrics.
b. This simple sleeping bag should not have a market value to assure the homeless are beneficiaries.
c. The name indicates the skill level needed for this tied quilt.
d. The Ugly Quilt can be made in less than a day.
e. A group can make one in an hour.
How To Make An Ugly Quilt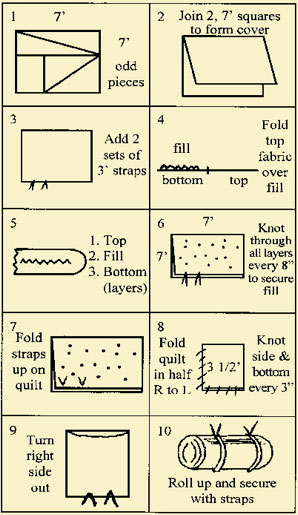 The outer shell of the sleeping bag is made by cutting scrap material, bedspreads, drapes or rummage into the largest square or rectangle the piece will allow.
Sew enough pieces together to form a seven-foot by seven foot (7′ x 7′) square.
Sew two, 7′ by 7′ squares together to form the sleeping bag cover. 7′ by 14′ finished length.
Stitch two sets of three foot straps to a 7′ edge, approximately 15 and 30 inches in. Straps are made of neckties, dress belts, etc.
On three eight foot (8′) church tables, fill one half of the 14′ x 7′ piece with clean old blankets, mattress pads, fiberfill or light-weight rummage. Leave a three inch (3″) seam allowance on the three open edges.
Cover with remaining 7′ length.
Tie knots through all three layers with a double crochet cotton every eight inches (8″), to secure the covers to the fill layer.
Lay the 3′ straps up onto the tied quilt.
Fold the tied 7′ x 7′ in half, R to L forming a 7′ x 3 1/2′ sleeping bag shape. * Triple knot with crochet cotton the remaining side and bottom edges every three inches catching only the four cover layers. Raw edges will insulate the seams when turned * The top edge and folded side are finished.
Turn right side out.
Roll up and tie straps tightly to secure. Feel free to implement your ideas but keep it simple, quick and cost free.
——————————————————————————————————————————————————————————————-
Optional Suggestions:
Ask a blessing for those who suffer from the cold.
Add a hat, gloves, a scarf socks, underwear, soap, etc.
Homeless women are warmer in men's clothes.
With a Magic Marker, sign and date Sleeping Bag with: My Brothers' Keeper Quilt Group and your zip code.
Add a message of "HOPE", Non-judgmental e.g. – a page from an old hymnal, daily paper, guidepost.