February 2011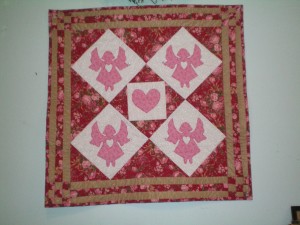 A small box arrived this morning containing an Angel Wall Hanging.
The return address was from someone that saw the NBC Nightly News special on Brian Williams on Christmas Day.
She said the hearts on the angels reminded her that there are many Angels out there that care about the homeless and she saw some of them that night on the special.
One thing she may not have seen is how many of them there really are.
I will be eternially grateful to all of you, not only for helping this life saving project but for the thousand of lives you gave comfort to this winter.
When I look at that quilt I will also think of all of you. Thank You Debbie Hoeffner.
Posted by
Marge
on February 28th, 2011